We operate a bit inland from Bundaberg with many of our business web design clients based in and around Bundaberg. That's why we love Bundaberg Business and we look forward to growing the number of business websites we can design and deliver to support a local Bundy enterprise. We are poud to be part of the story of a number of bundaberg based businesses from Sole Traders to larger corporations. Are you looking for a web design solution provider servicing Bundaberg? Look no further talk to us about your needs.
Bundaberg Business Sectors Profile
Bundaberg is a coastal city located in Queensland, Australia. It is known for its rich agricultural industry and is home to a diverse range of businesses, including manufacturing, retail, and tourism.
The agricultural sector is a major contributor to the economy of Bundaberg, with the region being known for its production of sugar, rum, and other crops such as avocados, berries, and citrus. The city is also home to several large-scale processors and manufacturers, such as the Bundaberg Brewed Drinks and the Bundaberg Sugar mill.
The retail sector is also a significant contributor to the economy, with several shopping centers and specialty stores located in the city center. The city also has a growing tourism industry, with many visitors coming to the region to enjoy the beaches, nature parks, and cultural attractions.
The city is also home to several educational institutions, including the Bundaberg Campus of CQUniversity, and the Bundaberg TAFE, which provide training and education opportunities for local residents and businesses.
The business community in Bundaberg is supported by various organizations, such as the Bundaberg Chamber of Commerce and Industry, which provides networking and advocacy opportunities for local businesses. The Bundaberg Regional Council also provides support to local businesses through its Economic Development Unit, which offers a range of services and resources to help businesses grow and prosper.
In addition, Bundaberg is also home to several business parks and industrial estates, providing businesses with the opportunity to expand and grow.
Overall, the business community of Bundaberg is diverse, with a strong agricultural and manufacturing base, a growing retail and tourism sector, and supportive organizations and resources for local businesses. The city is poised for growth and expansion, providing opportunities for businesses to thrive.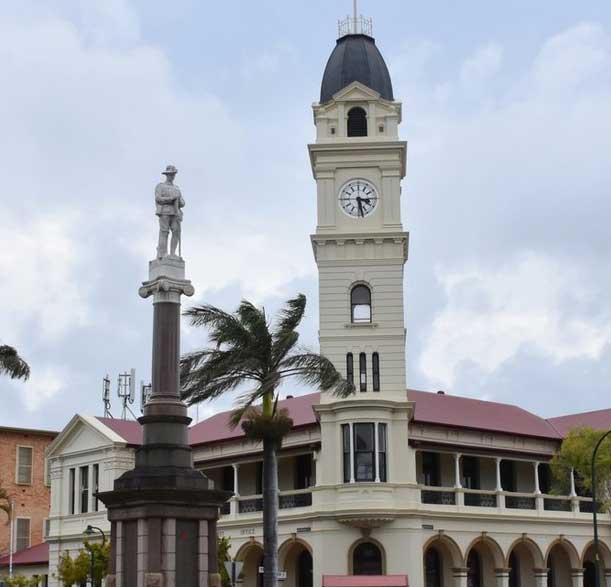 Bundaberg's favourite Tourist Destinations
These are our own favourite attractions in Bundaberg
Mon Repos Turtle Encounter: This is a popular spot for visitors to see turtles nesting and hatching. Visitors can participate in guided tours and learn about the conservation efforts for these endangered species.
Bundaberg Rum Distillery: This distillery offers tours and tastings of their famous Bundaberg Rum. Visitors can learn about the history of rum production in the area and see the distillation process in action.
Hinkler Hall of Aviation: This museum is dedicated to the life and legacy of local aviation pioneer Bert Hinkler. Visitors can see exhibits on Hinkler's life and achievements, as well as a collection of vintage aircraft.
Lady Elliot Island: This island is a popular destination for snorkeling and diving, with a wide variety of marine life to see. Visitors can also take guided tours to learn about the island's history and environment.
Bundaberg Botanic Gardens: This garden features a wide variety of plants and flowers, as well as a Japanese garden and a tropical conservatory. Visitors can take guided tours and learn about the different types of plants on display.
Bargara Beach: This beach is known for its white sand and clear blue waters. Visitors can enjoy swimming, sunbathing, and a wide variety of water sports.
Burnett Heads Lighthouse: This lighthouse offers great views of the ocean and nearby islands. Visitors can take guided tours and learn about the history of the lighthouse and the surrounding area.
Schmeider Park: This park features a playground, picnic areas, and walking trails. Visitors can also see a collection of sculptures and other artwork on display.
The Bundaberg Barrel: This is a popular tourist spot where visitors can learn about the history of sugar production in the area and see the process of making Bundaberg Rum.
The Bundaberg Region Art Gallery: This art gallery features works by local and regional artists, with a focus on contemporary art. Visitors can take guided tours and learn about the artists and their work.
Doing our Part for the Bundaberg Business Community – High Value Web Design at Low Cost Structures
We simply don't let anyone run off with a web design outcome they do not like. We will deliver your new business website the way you want it to look. And we are unbeaten on price, our custom business websites beat our competition hands down. Find out what web design 4 business can do for your Bundaberg enterprise.