The WordPress Dashboard Explained
The WordPress Dashboard serves as the initial screen that greets you upon entering your blog's administrative domain. This dashboard provides a comprehensive snapshot of your website's status and offers a set of widgets to keep you informed about your blog's activities. You have the flexibility to tailor it to your specific needs by utilizing convenient shortcuts like drafting quick posts and responding to recent comments.
Dashboard Navigation Situated on the left side, the WordPress Dashboard features a navigational menu encompassing various options such as posts, media library, pages, comments, appearance settings, plugins, user management, tools, and configuration settings.
Screen Customization The dashboard offers the flexibility to display or hide different widgets depending on your preferences. You can manipulate these options using checkboxes, granting you the ability to customize the administrative screen to your liking.
Welcome Center The Welcome Center presents you with the "Customize Your Site" button, facilitating the personalization of your WordPress theme. The central column conveniently offers quick links for creating blog posts, generating pages, and previewing your website's front-end appearance. In the last column, you'll find links to widgets, menus, comment-related settings, as well as a direct link to the "First Steps With WordPress" page in the WordPress codex.
Quick Draft For speedy post creation, the Quick Draft feature serves as a compact post editor accessible from the admin dashboard. It allows you to draft, save, and publish posts with ease. You can input a title, jot down some notes, and save your work as a draft.
WordPress News The WordPress News widget keeps you informed with the latest updates, software versions, alerts, and official WordPress blog news.
Activity Tracker The Activity widget provides an overview of your blog's recent comments, posts, and newly published articles. It empowers you to manage comments by approving, disapproving, replying to, editing, or deleting them. You can also mark comments as spam.
At a Glance In this section, you'll find a concise summary of your blog's statistics, including the number of published posts, pages, and comments. Clicking on these summary links redirects you to the respective screens. Additionally, you can view the current version of WordPress and the active theme on your website.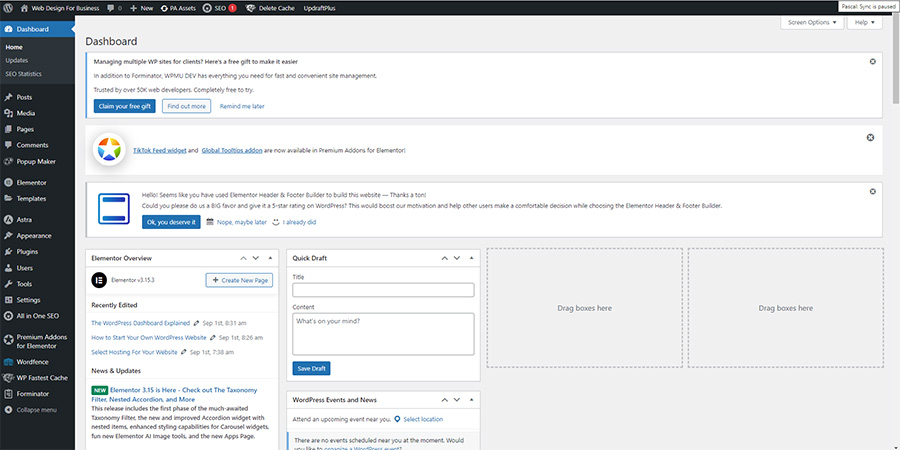 Leveraging the WordPress Dashboard for Efficient Business Website Management
In the digital age, a business's online presence is often the first point of contact with potential customers. Managing a business website efficiently is crucial for success in today's competitive landscape. WordPress, the popular content management system (CMS), provides a robust platform to build and manage your business website. At the heart of WordPress's management capabilities is the WordPress Dashboard. In this comprehensive guide, we will explore how to leverage the WordPress Dashboard for efficient management of your business website.
Understanding the WordPress Dashboard
The WordPress Dashboard serves as the control center of your website. It is the first screen you see when you log into the administration area, and it provides a wealth of information and tools to manage your website effectively. Let's delve into various aspects of the Dashboard and how to harness its power for your business.
1. Dashboard Overview
Upon logging in, the Dashboard presents you with an overview of your website's current status. It offers insights into the number of published posts, pages, and comments. Understanding these metrics helps you gauge the level of engagement on your website and the progress of your content marketing efforts.
2. Customization
Customization is key when managing a business website. The WordPress Dashboard allows you to tailor it to your specific needs. You can rearrange widgets, add new ones, and remove those that are less relevant to your business. This flexibility enables you to create a personalized workspace that enhances your productivity.
3. Navigational Menu
The left-side navigational menu is your gateway to various essential aspects of your website. You can access menu options such as posts, media library, pages, comments, appearance settings, plugins, user management, tools, and configuration settings. This organized menu structure simplifies the process of finding and editing the content and settings you need for your business website.
4. Content Creation and Management
One of the core functions of your business website is content creation and management. The WordPress Dashboard streamlines this process with its intuitive tools.
a. Quick Draft
The "Quick Draft" widget within the Dashboard acts as a mini post editor. It allows you to swiftly write, save, and publish posts directly from the admin dashboard. This feature is invaluable for capturing and publishing time-sensitive content, such as announcements, news updates, or blog posts.
b. Media Library
Efficiently managing images, videos, and other media files is essential for a visually appealing website. The "Media Library" option in the Dashboard grants you easy access to all your uploaded media. You can upload, edit, organize, and reuse media files, ensuring a consistent and visually pleasing online presence.
5. User Management
Business websites often involve multiple team members and collaborators. WordPress's user management capabilities, accessible through the Dashboard, enable you to define roles and permissions for each user. This fine-grained control ensures that team members have the appropriate level of access and authority, enhancing security and collaboration.
6. Appearance Customization
Your website's appearance plays a crucial role in establishing your brand identity. The "Appearance" options in the Dashboard allow you to customize your website's theme, layout, and design. You can select from a wide range of themes and further personalize them to align with your brand's aesthetics.
a. Customizer
The "Customizer" tool, often accessible through the Dashboard, provides a real-time preview of theme customization. You can tweak various aspects such as colors, fonts, header styles, and more while instantly seeing the changes. This live preview ensures that your website's appearance matches your vision without surprises.
b. Widgets
Widgets are essential for enhancing your website's functionality. The Dashboard offers a widget management interface where you can add, remove, and rearrange widgets in your website's sidebar, footer, or other designated widget areas. Common widgets include social media feeds, contact forms, and recent posts.
7. Plugin Management
Plugins extend the functionality of your business website. The WordPress Dashboard simplifies plugin management, allowing you to install, activate, deactivate, and update plugins with ease. Before installing a plugin, ensure it aligns with your business goals and does not negatively impact your website's performance or security.
8. Comment Moderation
Engaging with your audience is vital for building trust and rapport. The "Comments" section in the Dashboard provides an overview of all comments on your website. You can approve, disapprove, reply to, edit, or delete comments directly from the Dashboard. Additionally, the Dashboard's "Activity" widget highlights recent comments, enabling you to stay updated on user interactions.
9. Website Analytics
Monitoring your website's performance is essential for making informed decisions. While WordPress itself doesn't offer in-depth analytics, you can integrate third-party analytics tools like Google Analytics. The Dashboard's "At a Glance" section provides a snapshot of your website's key statistics, such as the number of published posts and comments, to help you gauge your website's engagement level.
10. System Maintenance
Regular maintenance ensures the security and stability of your business website. The WordPress Dashboard simplifies system maintenance tasks, such as updating WordPress core, themes, and plugins. Keeping your website up-to-date is crucial to protect against security vulnerabilities and ensure optimal performance.
11. Mobile Accessibility
In an increasingly mobile-centric world, the WordPress Dashboard is designed to be mobile-responsive. You can access and manage your business website on the go, making it convenient to address urgent tasks and stay connected with your audience.
12. Additional Resources
The Dashboard often includes helpful links and resources. The "Welcome" section typically provides quick links to essential tasks, such as creating blog posts or pages. Additionally, you may find links to relevant documentation and support resources, empowering you to troubleshoot issues and enhance your website management skills.
The WordPress Dashboard serves as a powerful tool for efficiently managing your business website. Its user-friendly interface, customization options, and comprehensive feature set enable you to create, maintain, and optimize your online presence with ease. By harnessing the capabilities of the Dashboard, you can streamline content creation, engage with your audience, and ensure your website remains secure and up-to-date. As your business evolves, the WordPress Dashboard will continue to be your trusted ally in achieving your online goals.